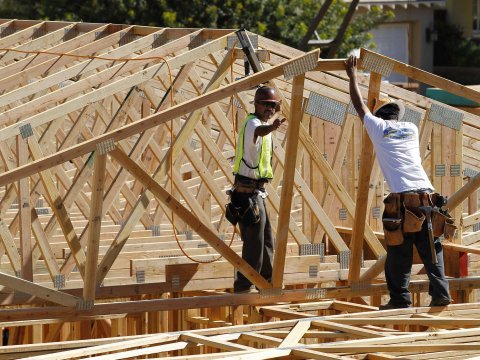 No one--except perhaps the Congressional Republicans and the 1%--is looking forward to the GOP tax bill that was blindly railroaded through Congress this past week. Many of our legislators did not even have a chance to read the document that was voted into law. It's been called many things by a wide range of detractors, but it's clear that these changes in our tax structure are not designed to benefit the working class. Apparently all those in Congress who voted for this tax plan are responsible to their wealthy constituencies, not the middle class or those who are working two jobs and struggling to get by. Or college kids burdened by student loans. The list of those not being served by this plan is endless.
Two powerful trade associations slammed the GOP's tax plan on Thursday
National Association of Home Builders and the National Association of Realtors believe this legislation could hurt the market. Something to keep in mind: the real estate and associated industries, including construction, makes up 20% of the nation's economy. Think about all of those businesses on the periphery of a construction or real estate transaction that would potentially be affected: landscapers, architects, plumbers, electricians, tile workers, stagers, organizers, movers, haulers, etc. The list goes on. If this tax plan affects the buying, selling, building and remodeling of homes, we are going to see a widespread slowdown of the economy.
Risk of declining home values
The tax plan would cap the mortgage-interest deduction, which allows homeowners to subtract interest payments from their taxable income. On new homes, this amounts to $500,000. This could dampen the benefit of the deduction outside of the most expensive housing markets and may lower home values.
On Sunday, the National Association of Home Builders, a lobbying group based in Washington, DC, said it would not support the legislation. When the full text emerged on Thursday, it amplified its criticism. "The details that are coming out show that the House Republicans are picking large corporations and wealthy Americans over small businesses and middle-class American homeowners," Jerry Howard, the association's CEO, told Business Insider.
Potential housing recessions in some of the country's biggest markets
Howard estimated that 7 million homes would be excluded from the mortgage-interest deduction—an estimated third of the homes in California. "You're talking about potentially causing housing recessions in some of the biggest markets in the country, and those kinds of recessions tend to have spillovers," Howard said. "We're worried about a national housing recession."
The trade association had been working with lawmakers to replace the mortgage-interest deduction with a tax credit offering the same incentive. "The House Republicans have violated the president's charge of doing a tax reform that helps middle America," Howard added. "Home values are at risk of declining. Baby boomers ought to think about putting off retirement for a couple of years because they may not have the equity in their homes that they thought they did."
The National Association of Realtors similarly expressed concern that the GOP's plan would hurt home prices. "Eliminating or nullifying the tax incentives for homeownership puts home values and middle-class homeowners at risk, and from a cursory examination this legislation appears to do just that," William Brown, the group's president, said in a statement on Thursday.
Investors sold off shares of homebuilders on Thursday. The SPDR S&P Homebuilders exchange-traded fund fell 3%, its biggest decline in a year.
Looking for a realtor who understands the East Bay real estate market? Contact Parisa Samimi. More than 20 years of comprehensive industry experience.