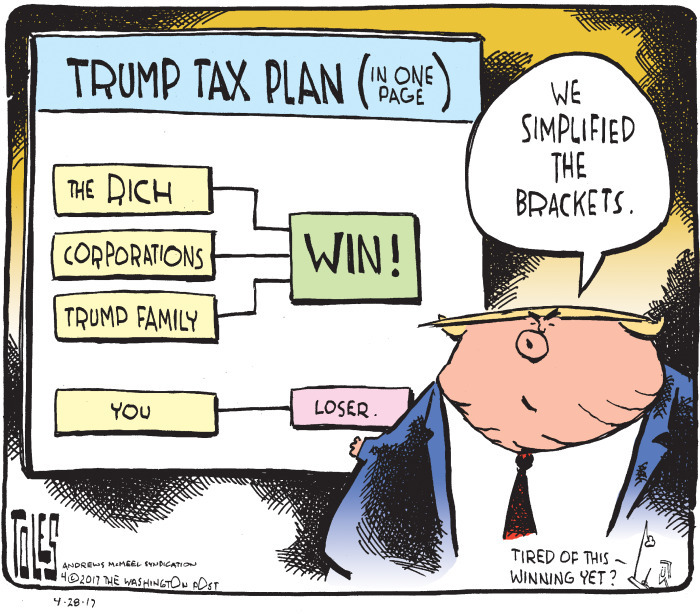 Owning a home has always been a symbol of the American dream. In addition to tax advantages, it represents stability; it helps build long-term wealth and strong communities. Here in the Bay Area, soaring costs and limited inventory are making it increasingly difficult for many people to buy homes.
And now there's the proposed Republican tax reform
The National Association of Realtors (NAR) and other realtor organizations as well as home builders have voiced concern about the Trump administration's proposed tax reform because it may undermine the tax advantages that homeowners have traditionally enjoyed. It would limit deductions for real property taxes and mortgage interest; it would raise taxes for middle-class families, especially in California.
The GOP legislation would reduce the benefits of home ownership
This bill would have the strongest impact in high-cost areas, and that includes our markets here in California. If there is a slowdown in the real estate and housing market, it affects a wide range of industries that serve these businesses. According to the NAR, an estimated 20% of the nation's economy is dependent on real estate and related industries--those that supply raw materials and manufactured goods but also home enhancement businesses, maintenance and repair services. Ask realtors who've been in business for a while, and they will tell you how much they depend on their teams of handypersons, painters, stagers, installers, carpet cleaners, gardeners, organizers, haulers, etc. These are the small business owners, the traditional "backbone of America" who help make up that 20%.
According to the Washington Post and Wall Street Journal, the new tax legislation would slash the popular mortgage interest deduction yet chop the corporate tax rate from 35% to 20%. Currently, Americans can deduct interest payments made on their first $1M of home loans. But for new mortgages, it would only deduct interest payments on the first $500,000 worth of loans. Clearly, these tax breaks are not created with the middle class in mind, but for the wealthy.
Other parts of the GOP tax plan would hurt the middle class
The bill would scale back a provision for Americans to deduct taxes they pay to state and local governments from their federal tax bill.
Tax credits for electric cars would be eliminated—consistent with the Trump administration's refusal to take action to protect the environment and support development of alternative technologies.
Americans would no longer be able to deduct moving expenses or alimony payments.
Large college endowments would pay taxes on their income in a way that treats them more like private foundations.
Home ownership hovers around a 50-year low today; this bill could discourage families from buying a home with all of the advantages of stability and building community that home ownership represents. Not allowing homeowners to deduct their property, state and local taxes could potentially raise their tax bills up to $3,000 annually.
As 2017 winds down, the GOP appears determined to pass this bill by year-end
Cutting tax benefits for average citizens while dramatically increasing the benefits for corporations cannot be the answer. Many are calling this proposal an assault on homeownership.
The GOP tax plan includes an increase to the standard deduction for single and married people, which would likely result in homeowners opting for the standard deduction instead of the itemized deduction, in which they could deduct their mortgage interest. It places the two tax incentives at risk and it negatively affects homeownership by eliminating some of the incentives to buy a home.
Long-term effects include decreasing property values
Without the tax advantages of home ownership, fewer buyers would be motivated to purchase homes, continuing to rent. A smaller buyer pool would result in fewer offers made, ultimately lowering home values. The entire real estate industry, along with all of its many associated service providers would take a huge hit.
Parisa Samimi: professional real estate broker with more than 20 years of industry experience
Something that sets Parisa apart: a background in assessment means that she's uniquely skilled at pricing your home for market. Contact Parisa Samimi if you're thinking about selling your home or are ready to buy a home in the San Francisco Bay Area.