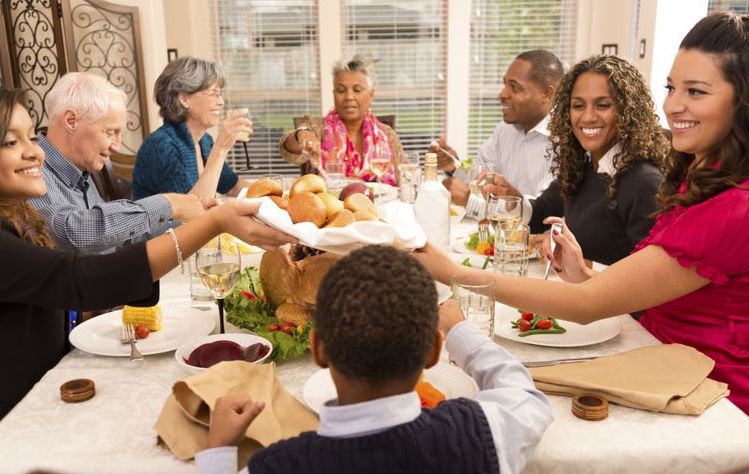 My family immigrated to the U.S. during the Iran-Iraq War in 1984. My parents could see that our country was becoming increasingly troubled and sought a better life and more opportunities for their children. I was 14, and starting a new life in a foreign country, away from my friends and everything that was familiar was difficult, but the experience taught me about the importance of strong family and community ties. Little by little, we built a new life for ourselves. We made new friends, learned new customs and found new community.
We'll be sharing a traditional American Thanksgiving meal
Sometimes people ask me if we'll be eating Iranian specialties on Thanksgiving, and the answer is always "no". My family is happy to be living in this country. We've worked hard to create the lives that my parents sought when they fled Iran. We've bought homes, sent our children to college and proudly watched them graduate.
My daughters are deeply rooted in their Iranian heritage
But my daughters are Americans, and like millions of others, we'll be eating a traditional American turkey dinner on Thanksgiving. This is a holiday rich in custom, and we rarely vary our menu.
Some of the people around our table will be our immediate and extended family; others will be friends who have expanded our family. Yet there is always room to squeeze in a few extra chairs, embracing those who may be spending Thanksgiving alone. They be new to this country, as we once were. It is our hope that this country continues to provide shelter to those who are seeking new lives, fleeing persecution and violence because this is also an important American tradition.
Spending the holiday with family and friends
I hope that each of you has family and friends with whom you will be spending the holiday--following or creating your own traditions. Thanksgiving always seems to be about food—we look forward to our favorite stuffing, sweet potatoes and desserts, yet it's about so much more. Sharing a meal binds us, and cooking for someone is truly a demonstration of our love, a time to be grateful for all that we have.
Looking for a realtor who understands the East Bay real estate market? Contact Parisa Samimi. More than 20 years of comprehensive industry experience.