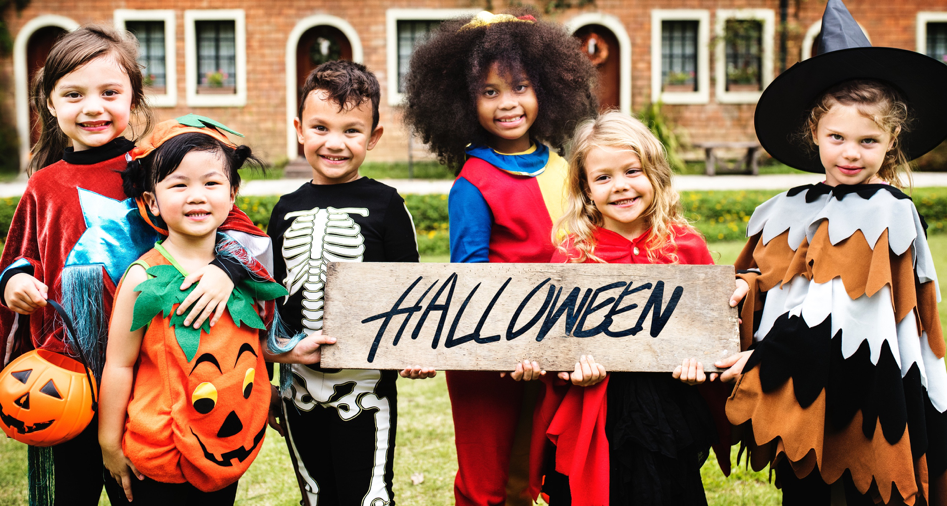 There is nothing like Halloween in the Bay Area. The area brings artistic costumes, festive and creative neighborhoods, and spooky weather to get your trick-or-treat on. As we gear up for the holiday, join the Bay natives and bring your most unique costume to one of the many friendly neighborhoods below.
There are a number of spooky neighborhoods in San Francisco to explore. A huge, kid-friendly street party takes place on Belvedere Street (between Parnassus Ave. and 17th Street). The majority of the crowd is 10 and under. Almost every house is decked out with lights, pumpkins, and haunted garages. Kids are dressed from head to toe while crafty parents decorate wagons and strollers as part of their costume. One of the best places to trick-or-treat is on Belvedere Street from Parnassus to 17th as it is closed to thru-traffic. Another kid-friendly location, especially for the younger crowd, is located along 24th street. The hills of 24th Street feature creative Victorians, decorated for the holidays. Another street, not far to 24th in Noe Valley, is the Fair Oaks Street (between 21st and 26th Street). This area is also closed to traffic for the kiddos to focus on candy grabbing. However, houses don't start opening until after 6 pm. If you have eager kiddos, go through 24th street then head over too 26th. Some notable areas to also visit include Presidio Heights/Outer Richmond, Sea Cliff, and Street Francis Wood.
East Bay is another incredible display of festivities and trick-or-treating. In Oakland, Cleveland Heights/Haddon Hills is known to get spooky! Each year, the neighborhood is famous for their generous candy distribution and scary décor. The Berkeley Hills (Mariposa Avenue) is another area that is taken over by trick-or-treaters. The street is closed off to cars, easier for kids to bounce from house to house. However, parking in this area can get a little tricky. Alameda is notorious for getting the party starting earlier. Don't miss a hidden gem in the 300 block of Haight Street. A number of residential parts of Alameda start from noon to around 4 pm. This is perfect for parents and kids who have an early bedtime.
In Martin County, Mill Valley (Sycamore Street), is a perfect place for families. The beautiful landscape and cobwebbed front stoops are wonderful for the festive atmosphere with families and group costumes, making Sycamore Street Halloween Central. The Bel Aire neighborhood in Tiburon is home to front-lawn cemeteries and other spooky ornaments. This is a perfect stroller-friendly place for the little ones. Some notable mentions in Marin County include Heatherwood, San Anselmo (Sleepy Hollow), and Bamboo Terrace (Terra Linda/San Rafael).
Some other areas include:
South Bay – Cambrian Park, Los Gatos: Almond Grove, Rose Garden, and Willow Glen.
Peninsula – Burlingame (Cabrillo Avenue), Millbrae (Taylor Street), Brisbane, Downtown Los Altos, and San Carlos (Eucalyptus Street).
If you're thinking about selling or buying a home or looking for investment property in the San Francisco Bay Area (Oakland, Berkeley, Piedmont, Albany, Kensington, El Cerrito) contact Parisa Samimi, Real Estate Broker and Top Producing Agent at Golden Gate Sotheby's International Realty in Berkeley. More than 20 years of comprehensive industry experience.