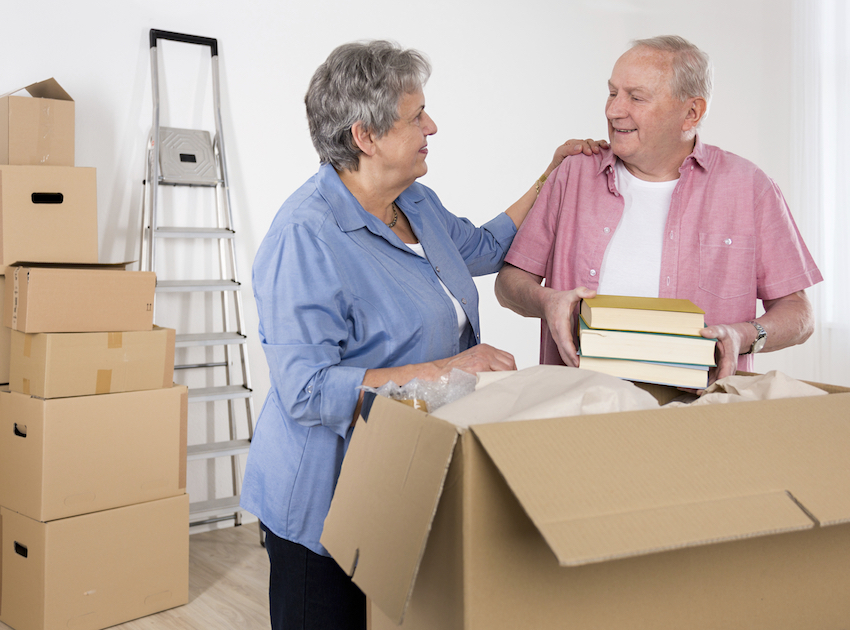 People these days are downsizing for a lot of reasons. Aging baby boomers are seeking a simpler life, freed from the time and expense of caring for huge empty homes and expansive yards. Others are seeking a smaller footprint, lower environmental impact, a smaller mortgage and less debt. Regardless of the reason for choosing to simplify, moving from a large multi-bedroom, multi-bathroom home to one that his significantly more compact requires a strategy.
Depending on your time and stamina, it may be worth consulting with a professional organizer to help manage the entire effort because downsizing will require a wide range of assaults on a lifetime of belongings. It will require:
Making decisions on what to keep and what to discard for every room in your house.
Reaching out to your kids and other relatives for them to take treasured family items, furniture, etc.
Trying consignment stores as an alternative for selling furniture or clothing. Keep in mind that they can be picky—they likely won't take everything, and they generally split the fee on a 50/50 basis.
Staging a garage sale to help get rid of clothes, excess kitchen items, tools and furniture.
Contributing other items to Goodwill or other favorite nonprofit.
Measuring the dimensions of your new home.
Packing, moving, unpacking and in new home.
For those who are downsizing, you need to keep in mind that there's a very good chance your kids don't want those old toys and other things you've been carefully saving. It will be difficult to make decisions to part with things that have held meaning or sentimental value. It's just stuff, and your long-term goal is a simpler, more carefree life.
As you sort through a lifetime's worth of belongings, you will be making difficult decisions about what to keep and what to lose. Here are 12 items that you need to keep.
1. Important Papers. Let go of as much paper that you have accumulated as possible, but do keep birth and death records, marriage licenses, divorce decrees, social security cards, pension plan documents, medical records, insurance policies, passports, wills, trusts, power of attorney documents, property deeds, investment records, education records, diplomas, military service records and vehicle titles.
2. Family Heirlooms. Which ones do you truly love and value? Be discriminating and take these to your new home.
5. Photographs. You may need to digitize these, but you don't want to lose them.
6. Collections. You've enjoyed the process of collection; select your favorite few—those you love and value above all the rest. Display and enjoy them.
7. Fine Jewelry in the Original Box. Having a piece of jewelry in its original box adds value when/if reselling it and keeps the piece of jewelry in mint condition.
8. Sentimental Items. The certificate you won for finishing the Boston marathon, pictures or other awards—items that you would not be able to replace and that hold a high sentimental value for you.
9. Emergency Supplies. A radio, landline phone, batteries, flashlight and first aid kit should all be on hand.
10. Basic Kitchen and Bathroom Supplies. Be selective. Pots and pans, quality knives, spatula, wooden spoon, Cuisinart, blender, sheets and towels. You likely won't be doing as much cooking in your new downsized life, so you won't need a wide selection of kitchen tools. When my folks moved into a retirement community, my mom left most of her kitchen equipment behind. After a lifetime of shopping, cooking and cleaning up, she was delighted not to have to cook anymore.
11. Unexpired Medication and Toiletries. Meds can be expensive to replace. Keep your daily meds with you during the move—they may be difficult to locate.
Which items have the most value for me?
Many people use a set of criteria to help them identify those items to take to their new homes. Ask yourself "What three items (out of the 15/20/etc.) would I want to see in my new home?" "Which have the most meaning for me?" It may sound simplistic, but ultimately, everyone has his/her favorites, and it will help them make decisions. Once you make the decision and start discarding items, it becomes empowering.
Looking for a realtor who understands the East Bay real estate market?
If you're thinking about selling or buying a home or looking for investment property in 2018, contact Parisa Samimi, Golden Gate | Sotheby's International Realty in Berkeley. More than 20 years of comprehensive industry experience.