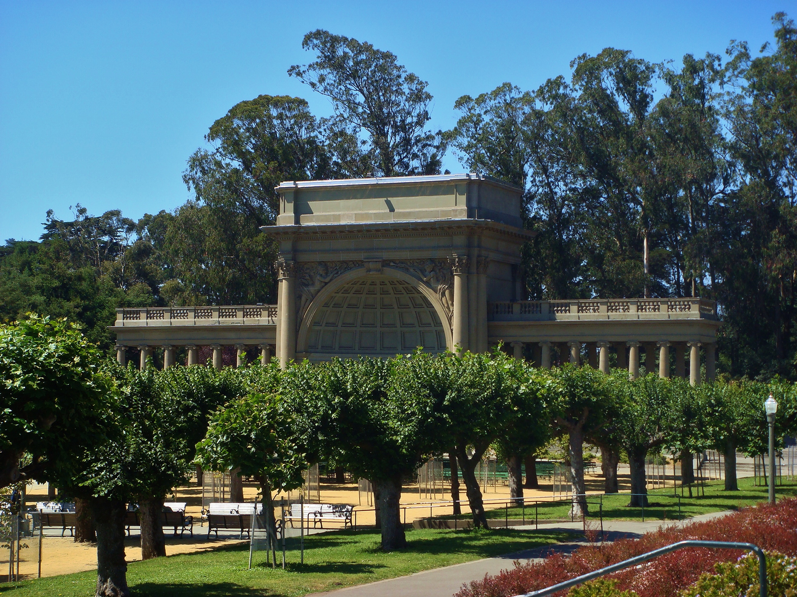 The 137thseason of free concerts in the Spreckels Temple of Music in Golden Gate Park is officially kicking off on this Sunday, April 28th! Don't worry if you can't make it this weekend, the season schedule runs through October 6th. The Golden Gate Park Band (GGPB) has been playing free public concerts on Sundays since September of 1882. Amazingly, the performances are one of the last big-city outdoor bands to play a full season of free concerts.
The GGPB is a non-profit organization sponsored by the Recreation and Park Development of San Francisco. Although the concerts are free, you can make a donation online and funds are tax-deductible. Since 1882, the band offers a variety of music including operas, marches, folk music, and even Broadway show numbers. The concerts may even feature special guests, soloists, and various performances. Also, the GGPB collaborates with diverse San Francisco ethic and art groups that often dress up in costumes, sing, dance, and perform. In recent pasts, the Band has partnered up with ethnic groups of Mexican, Armenian, Italian, French, African-American, Irish and Spanish descent.
Concerts occur every Sunday, starting at 1:00 pm and end at 2:30 pm. It's important to note that there is no intermission. Beginning on April 28th, a concert will take place every Sunday until October 6th(subject to change). This year, the Band will celebrate a wide range of cultures and heritage. If you would like to get connected, donate, or check out this year's schedule, go to http://goldengateparkband.org/concerts/for more details. You won't want to miss this spectacular showing of culture and music!
If you're thinking about selling or buying a home or looking for investment property in the San Francisco Bay Area (Oakland, Berkeley, Piedmont, Albany, Kensington, El Cerrito) contact Parisa Samimi, Real Estate Broker and Top Producing Agent at Golden Gate Sotheby's International Realty in Berkeley. More than 20 years of comprehensive industry experience.