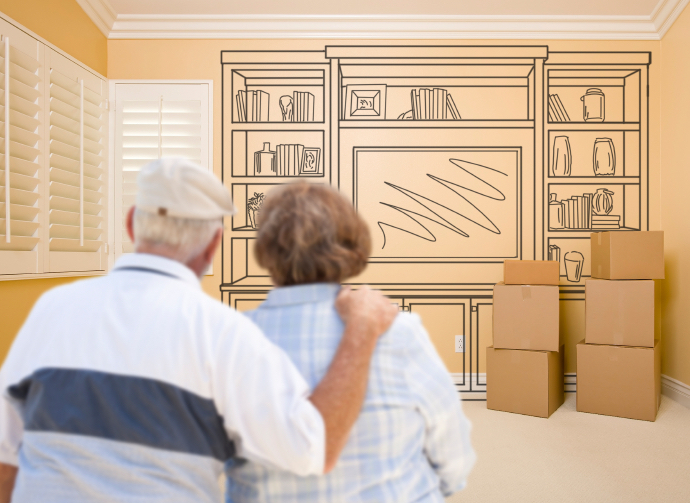 More than 25 stuffed animals, two violins, a set of drums and piles of books—none of which anyone ever used, played or read--occupied a corner of the garage and represented a fraction of the possessions Julie and Bob Miller had accumulated over the course of their 45-year marriage.
Downsizing became a full-time job
Moving from a large four-bedroom, three-bathroom house with an attic and basement to a 1,300 sq.ft. apartment took months of sorting, shredding, garage sales and schlepping to donation centers.
Keeping those items with sentimental value
The Millers are keeping three hutches—all have sentimental value. One shelf is lined with teacups that Julie collected in her travels. Another houses an exquisite Japanese tea set, a gift her mother received on her wedding day. Yet Julie admits all three hutches may not make it to their destination.
"We don't really need any of this"
We don't need this is becoming the operative phrase as baby boomers downsize and find that their kids have no interest in the wide range of stuff with sentimental value that their parents have carefully saved for them. Forget those used stuffed animals left over from childhood, the Hummel collection, the gaudy Thomas Kinkade paintings, the full sets of china and crystal. Today's kids want modern furniture and minimalism.
Building their own memories, not inheriting someone else's
Throwing something away can be synonymous with losing a bit of ourselves, our identities. Yet baby boomer parents are coming to grips with the reality that their kids want Pottery Barn—not dark furniture or knick-knacks and shelves full of mementoes from bygone eras. They're more interested in building their own memories.
As they began downsizing, Julie and Bob discovered that their millennial son didn't want anything. He went through the childhood things they had carefully saved for him, grabbed them from their boxes and dumped them in the trash. Her son's apartment "looks like he's still in college. He doesn't have a single picture on the wall" of his Manhattan apartment. Yet she learned from her son. She realized that a china cabinet full of her wedding presents from some 45 years before really didn't belong in her new life. Once she made the decision to donate these, it was easy to let go. The new lifestyle of being free, relieved of the demands of caring for a large home, outweighed sentimentality. While downsizing can be challenging, most find that it's only stuff and love their new, simplified lives without the maintenance.
Choosing what to take and what to lose
When it comes to downsizing, ask yourself: "How does this object fit into my new life?" Get out a measuring tape and figure out if those large, heavy pieces of furniture will fit into your new space. If they won't fit, donate. Many people find that letting go actually brings a sense of freedom as they begin to create their new downsized lifestyles.
If you're thinking about downsizing, selling or buying a home or looking for investment property in 2018, contact Parisa Samimi, Golden Gate | Sotheby's International Realty in Berkeley. More than 20 years of comprehensive industry experience.