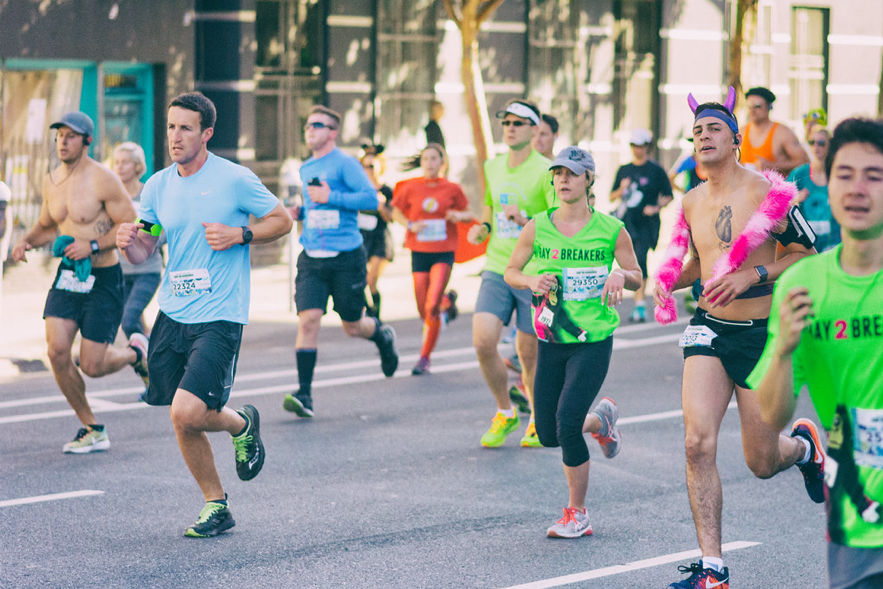 After a devastating earthquake rocked San Francisco in 1906, many feared the City would never recover. However, many San Franciscans started special events to lift civic morale. The Cross-City Race, better known today as Bay to Breakers, was established in January of 1912. Since then, the race has been a true reflection and celebration of life between the breakers and the Bay. This year the race is taking place on Sunday, May 19th. If you want to show support or participate in the 12K run, registration is still open online for a limited time.
Each year, thousands of costumed participants join together in one big human spirit celebration. This race is one of the largest footraces in the world with more than 40,000 racers and 100,000 spectators on display. In 1986, the race broke a Guinness Book world-record with 110,000 individuals lining up on race day. As runners make their way through the heart of the City, the course is both beautiful and challenging with thousands of onlookers lining the streets. Every year, thousands of participates and teams dress in costumes to commemorate this special City event.
Since 1912, more than 2 million costumed runners, walkers, and centipedes have completed the 12K journey from San Francisco Bay to the breakers on Ocean Beach. With registering, runners will receive an official runner's t-shirt, finisher medal, food and beverages, course entertainment, and finish line festival access. Grab a buddy or a group of 13 friends and register for this iconic event. For more information about registration options, volunteering, and course maps go to https://baytobreakers.com/general for details. If you have no desire to race, I suggest cheering on the racers and enjoying all the fun and goofy costumes!
If you're thinking about selling or buying a home or looking for investment property in the San Francisco Bay Area (Oakland, Berkeley, Piedmont, Albany, Kensington, El Cerrito) contact Parisa Samimi, Real Estate Broker and Top Producing Agent at Golden Gate Sotheby's International Realty in Berkeley. More than 20 years of comprehensive industry experience.