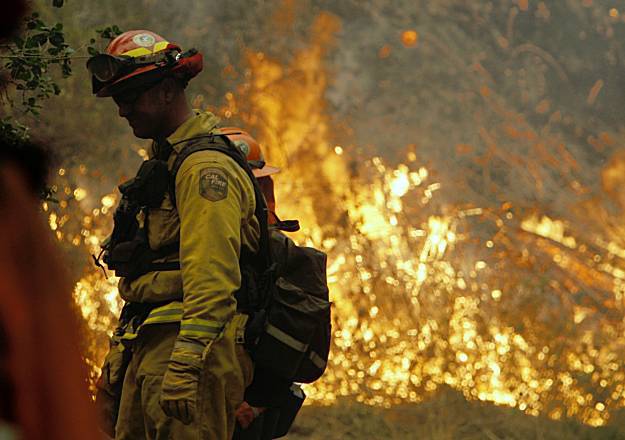 Exhausted by the tragedies of Puerto Rico, Hurricane Harvey and the slaughter of more than 55 innocent people in Las Vegas, we're now in the midst of yet another crisis—this time in our own backyard. The fires that are burning in Napa and Sonoma County fires have forced more than 25,000 people to evacuate the region; they have c­laimed more than 30 lives and it's not over yet. The fires have destroyed homes, businesses, farms, restaurants and wineries, leaving a toxic, charred wasteland in its path. Santa Rosa has been hit especially hard, with entire neighborhoods leveled.
Turning the corner on the fires by week's end
In its first few days, the fire was moving aggressively and unchecked through Northern California's wine country. The fire completely overwhelmed the area's fire departments—many of them supported by small volunteer forces indigenous to small towns. By the end of the week, we began to feel hopeful. Fire trucks and personnel began arriving from all over the Bay Area to support the fire effort. Pilots flying planes loaded with fire retardant made multiple passes over the burning acreage in an effort to squelch the flames. By Saturday, the fires had gone from 0% containment to 44% and more.
The efforts of first responders likely saved many lives and property
For those who live near the affected areas, communication was critical, and first responders delivered. Residents were advised to join a text communication channel to receive fire updates that provided news about updates, road closures, etc. The teams managing the fire effort immediately activated their plan when the fire broke out. Evacuation centers miraculously opened up, providing food, water and shelter for those who had no place else to go. Firefighters from California and beyond descended on the region, as local teams were overpowered and could not defeat multiple fires. These brave firefighters worked punishing hours, taking a few hours off to sleep, then going back to the front lines again. We see story after story of people opening their homes and hearts to those who have lost theirs. Of people going to extreme efforts to save a neighbor's home or a stranded pet. The acts of heroism and selflessness remind us of the best of America.
What's next for our beautiful wine country
As we all know, today's crisis tends to pass, and we move on with our lives. But Northern California's wine country has always been a special place. Drop-dead gorgeous at any time of the year, it's a favorite getaway for many people. It's the home of a huge industry that generates billions of dollars. Places like Calistoga and St. Helena are company towns—the businesses that live there are spawned by the wine industry, and they are all fed by tourism. Hotels and restaurants--it's all symbiotic. The firefighters will ultimately triumph over this blaze, until all that is left are its smoldering remains. But for the communities of the Sonoma and Napa Valleys, the effects will live on. For thousands of residents who have lost their homes and their livelihoods, it will require strength and resilience to begin rebuilding their lives.
Those who want to help
Looking for a realtor who understands the East Bay real estate market?
Contact Parisa Samimi. More than 20 years of comprehensive industry experience.