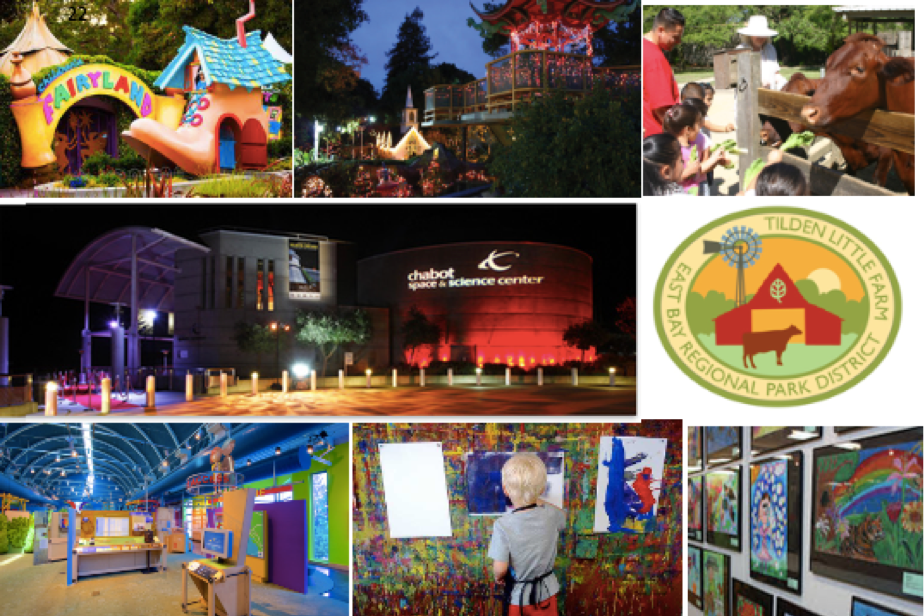 Whether you are saving for your next vacation or just want some fun to keep the kids busy, we've got a list for you. The Bay Area is filled with fun and enjoyable activities for all ages. Listed below are some of my favorite activities that kids will love.

Children's Fairyland
Enjoy a perfect summer day with playful storybook sets, gentle rides, live entertainment, and animals. The magical park is located on the shores of Lake Merritt in Oakland. Since 1950, young children have been able to play, learn, and create all day long! Tickets are only $10 dollars and guests under the age of one are free. More information can be found on their website at http://www.fairyland.org.

Oakland Zoo
Home to more than 700 native and exotic animals, the Oakland Zoo is a perfect place to explore with the kids! With a new expansion in July 2018, the Oakland Zoo's guests can now experience the California Trail. This trail is a development focusing on animal care, education, and conservation. Along with an admission ticket, the Zoo offers a free gondola ride. Children under 2 and adults 76+ are free. Children (4-14) are $20 and adults are $24. See more details on their website at http://www.oaklandzoo.org.
Tilden Little Farm
Free and fun for all ages! Get up-close-and-personal with cows, chickens, goats, bunnies, and more. This hidden gem is located in Berkley at Tilden Park. The Little Farm's admission, parking, entertainment, and education are free! Don't forget to bring your own lettuce and celery for feeding the animals. Information about the farm and additional activities can be found at http://www.ebparks.org/parks/tilden/.

Chabot Space and Science Center
Located in Oakland, this center offers an educational experience for all ages to learn and be inspired by Planet Earth. The center offers visitors hands-on, interactive exhibits, space-related artifacts, and shows that explore space and Earth. Tickets are $14 (ages 3-12) and $18 for adults. Plan a visit and check out their website at http://www.chabotspace.org/about-chabot.htm.
Museum of Children's Arts (MOCHA)
MOCHA creates a space that children and their families can connect and share through art. Don't let the word "museum" throw you off. This center is a creative play space for children. To visit, the price per ticket is 5 dollars. Each month, the museum offers an open studio with a specific theme. These themes are aimed to engage a child's curiosity and creative path. Plan a studio visit or maybe your kids next birthday party and see their theme for September at http://mocha.org/museum/open-studio/.

If you're thinking about selling or buying a home or looking for investment property in the San Francisco Bay Area (Oakland, Berkeley, Piedmont, Albany, Kensington, El Cerrito) contact Parisa Samimi, Real Estate Broker and Top Producing Agent at Golden Gate Sotheby's International Realty in Berkeley. More than 20 years of comprehensive industry experience.