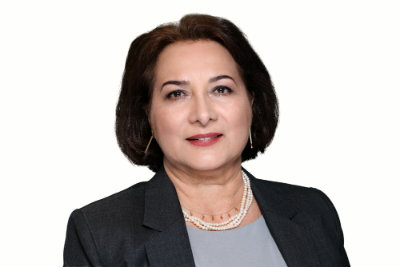 Shanaz Sarlak launched her professional career working in architecture before coming to the Bay Area. In San Francisco, she studied advertising and communications while she worked as a Senior Art Director in the Advertising and Marketing industry. Later, Shanaz received her MBA degree and started a career as a Project Manager.
Shanaz has always been passionate about land and design. She simply loves real estate. Her passion led her to become a licensed Realtor and start her own real estate business. Recently, she joined the Parisa Samimi Team at Golden Gate Sotheby's International Realty.
Shanaz combines rare management and design skills with her expertise as a real estate professional. While she is inspired by real estate's beauty, her clients benefit from her sharp business focus and attention to detail in negotiations. That focus also helps her educate buyers and sellers and effectively market listings.
Shanaz and her husband have lived in Oakland for over 30 years.
Shanaz wants to help, and believes clients should enjoy every step of the investing, buying or selling process. She is with you every step of the way.